Breaking Steele (The Jasmine Steele Mystery Series Book 3)
My Name Is Pink: An Age Gap Dark Romance (Morally Questionable Book 1)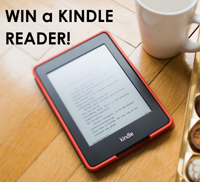 WIN A KINDLE READER or SUBSCRIPTION TO KINDLE UNLIMITED!
Dating My Best Friend: A Sweet and Clean Romance (Redefining Me Book 1)
Diviner's Prophecy (Diviner's Trilogy Book 1)
Kittens, Puppies & Love: A Swan Harbor Story (Stories from Swan Harbor Book 3)
Nanny for the Billionaire: A Standalone Reverse Harem Romance
Overcoming Autoimmune: A 100% natural, holistic approach to energy and total well-being. (Natural Health Warriors Book 1)
Masters of Illusion - Books 1 and 2
Intermediate Thermodynamics: An Enemies to Lovers Next-Door Neighbor Romance (Chemistry Lessons Book 2)
Angelo: A Second Chance Navy SEAL Romance
Dying for a Date: (A Humorous Cozy Mystery) (Laurel McKay Mysteries Book 1)
The End Of Us: Book 1
Loveda Brown Sings the Blues: The Idyllwild Mystery Series, Book Three
Salon Games Duet: Salon Games Books 1 & 2
Harry Starke (The Harry Starke Novels Book 1)
Rejected by Love's Nobility: Secrets Behind the Curtain Book 1
Pineapple House Hunter
Different with You: A Small Town Friends to Lovers Romance (Matchbox Series Book 1)
A Vampire's Fate (The Chronicles of Fate's Vampire Book 1)
WIN KINDLE READER or KU SUBSCRIPTION in MAY!
Greenwood Cove
Maybe Now: A Clean Novelette (Short Story)
The CPS Series ~ Books 1-3 (A CPS Novel)
Canary and the Mothman (Canary Trilogy Book 1)
A Cowboy for Alyssa: Burlap and Barbed Wire
A Midsummer Night's Romance
When Murder Comes Home: A suspenseful murder mystery with a hint of romance (Aileen and Callan Murder Mysteries Book 1)
Temptation : A Steamy Star-Crossed Romance (Allie Styles Romance Book 1)
The Lilliput Bar Mystery (A Lady Locksmith Mystery Book 1)
The Penitent Priest: A Contemporary Small Town Mystery Thriller (The Father Tom Mysteries Book 1)
The Master's Child Box Set One: A BDSM Menage Erotic Thriller